Our All-in-One Documentation and Training Package is our most popular product – for good reason: It gives you everything you need to prepare for registration.
 If you are not sure, you can always start with the Small Business Package and upgrade later – we'll only charge you the difference.
All the documentation you need to document your QMS:

All documents are in MS Word format for ease of editing and provide text to address each requirement of the ISO 9001:2015 Standard.
Required references to the recommended procedures and forms for your Quality Management System
Intuitive numbering system for easy Document Control

We've numbered the sections of the Quality Manual to correspond with the sections of the ISO 9001:2015 Standard. Registrars LOVE this feature!
Procedure and Form numbers relate to the section in the Quality Manual.

Conveniently train employees with Online Training.
Gap Checklist gets you started on your project plan.
Set up your internal audit program with our detailed Internal Audit Checklist. We include both a Microsoft Word version and an Excel version so you can use whichever format is best for you. You will receive BOTH formats for one price. Also includes the Internal Audit Procedure, Forms, and PowerPoint – all the tools you need to set up your audit program.
The Small Business Package includes everything else you need for certification:
Complete QMS with 22 procedures to cover every ISO 9001:2015 requirement
Training

Includes Admin to assign and track users for record keeping: Online Employee Training for 10 People
ISO 9001:2015 Requirements Online Training

Gap Checklist
Internal Audit Checklist
ISO 9001:2015 Project Manager's Guide
Small Business Package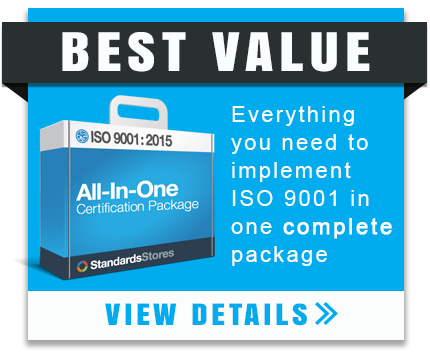 Which version is right for me?
ISO 9001:2015 Package is for those just creating their first ISO Management System, and provides necessary documentation to meet the requirements of ISO 9001:2015.
If you are transitioning from ISO 9001:2008 to ISO 9001:2015, the Transition Package includes the QMS + upgrade instructions. This provides you a map of where to copy some text from your existing QMS, and place it in a new QMS structure which follows Annex L.
 
Price
Each
9001:2015
Small Biz
9001:2008 to 9001:2015
Small Biz
Your Price
 
ISO 9001:2015 Quality Manual
$49
ISO 9001:2015 Procedures
$300
22
22
ISO 9001:2015 Forms and Attachments
$75
58
58
ISO 9001:2015 Flowcharts
$75
29
29
ISO 9001:2008 to 2015 QMS Upgrade Instructions
$299
 
ISO 9001:2015 Gap Analysis Checklist
$39
 
ISO 9001:2008 to 2015 Gap Analysis Checklist
$59
 
ISO 9001:2015 Online Employee Training
$310 (10)
ISO 9001:2015 Requirements Online Training
$179 (1)
ISO 9001:2015 Risk Management Exercise
$29
ISO 9001:2015 Internal Audit Checklist
$75
Support
FREE
Total Value
 
$1131
$1451
Package Discount
 
-$434
-$754
Your Price