Save time and money with our fully customizable Quality Manual and Procedures Package.  Our processes are well-organized and carefully designed to work together to lead your organization to continuous improvement.
Documents in Microsoft Word or Excel for easy customization.

Together, the docs include the content required to address 

each requirement

 of the ISO 9001:2015 Standard

Very clear instructions in obvious

 

Blue Text to show you where to customize your Manual and Procedures. Treat the

 

text in blue

 

as "revisions" or information that is specific to your company.

Docs are all numbered for an 

effective control of documented information

 

and are integrated to work together in a seamless system.

Related documents are referenced for effective record keeping. 

Intuitive architecture for easy Document Control. We've numbered QMS documents  to correspond with the sections of the 9001 Standard. Registrars LOVE this feature!

This is a downloadable product.
As you implement your ISO 9001 system you will also need checklists and training. You can save time and money by purchasing our Certification Packages!
The documentation package for the management system will contain:
(1) condensed Manual to introduce the documented information required for ISO 9001:2015.
(22) procedures outlining how you will control each requirement of the standard
(1) work instruction outlining document numbering system
(54) forms to record the data required by the procedure
(3) attachments
(3) blank, formatted templates to create your own additional documents
(29) flow diagrams created in Visio, SmartDraw, and pdf format.
*Includes 1 Free ISO 9001:2015 Online Training (30-days to complete training).
View PDF of all included Forms & Procedures for 9001:2015
The ISO 9001:2015 QMS Documentation Package includes the following documents:
(22) Procedures
P-400 Organizational context
P-500 Leadership
P-600 Planning for the Quality Management System
P-710 Resource management
P-715 Control of monitoring and measuring equipment
P-720 Competence and awareness
P-740 Communication
P-750 Control of documented information
P-810 Operational planning and control
P-820 Customer related processes
P-830 Design and development
P-840 Control of external providers
P-851 Control of production and service provision
P-852 Identification and traceability
P-854 Preservation
P-870 Control of nonconforming outputs
P-910 Monitoring, measurement, analysis, and evaluation
P-912 Customer satisfaction
P-920 Internal audits
P-930 Management review
P-1010 Improvement
P-1020 Nonconformity and corrective action
(1) Work Instructions
WI-750-001 Document numbering
(54) Forms
F-440-001 QMS-process identification worksheet
F-440-002 Organizational Context Worksheet
F-610-001 Risk and opportunity worksheet
F-620-001 Quality objectives planning record
F-710-001 Equipment problem report
F-710-002 Resource maintenance record
F-715-001 Equipment calibration list
F-720-001 Training action plan
F-720-002 Group training record
F-720-003 Job description
F-720-004 Employee training summary
F-740-001 Comment and suggestion report
F-750-001 List of documented information
F-750-002 Records matrix
F-750-003 Master documentation lists
F-750-004 Quality Records Table
F-750-005 Document change request form
F-750-006 Document revision checklist
F-750-007 Software inventory spreadsheet
F-810-002 Project planning worksheet
F-820-001 Client assessment report
F-820-002 Production order
F-830-001 Design plan
F-830-002 Design review record
F-830-003 Design change form
F-840-001 Provider assessment report
F-840-002 List of acceptable sources
F-840-003 Provider corrective action request – PCAR
F-840-004 Purchase requisition
F-840-005 Purchase order
F-840-006 Business agreement – contract
F-851-001 Process routing sheet – summary
F-851-002 Process routing sheet – summary
F-851-003 Process validation worksheet
F-851-004 Packing slip / Invoice
F-851-005 Service projects log
F-851-006 External property control log
F-851-007 Project inspection completion report
F-852-001 Identification tag
F-852-002 Traceability serial number log
F-852-003 Traceability label
F-854-001 Storage inspection report
F-870-001 Nonconformance report – NCR
F-910-001 Production-Monitoring, measuring, and analysis table
F-910-002 QMS-Monitoring, measuring, and analysis table
F-910-004 Inspection report
F-912-001 Customer survey and analysis
F-920-001 Applicable procedure by work area
F-920-002 Internal audit checklist
F-920-003 Audit plan
F-920-004 Audit report
F-930-001 Management review agenda
F-930-002 Management review output report
F-1010-001 Data analysis worksheet
F-1020-001 Corrective action request – CAR
(3) Attachments
A-520-001 Quality policy
A-530-001 Organization Chart
A-600-001 PDCA guidelines
(3) Templates
T-001 Procedure Template
T-002 Work Instruction Template
T-003 Form / Attachment Template
(29) Flow Diagrams
FD-400-001 Clause 4 – Context of the organization
FD-440-001 Process interaction flow diagram
FD-500-001 Clause 5 – Leadership
FD-510-001 Business process map
FD-512-001 Management Functions-Customer focus
FD-520-001 Operating principles
FD-530-001 Organization chart
FD-600-001 Clause 6 – Planning
FD-610-001 Planning cycle
FD-620-001 PDCA Objectives planning
FD-700-001 Clause 7 – Support
FD-710-001 Resource management
FD-750-001 Control of documented information
FD-800-001 Clause 8 – Operation
FD-810-002 Process flow diagram
FD-810-003 Production / Quality plan
FD-820-001 Customer processes
FD-830-001 Design and development
FD-830-002 Stage-Gate Idea-to-launch
FD-840-001 External provider – Purchasing
FD-851-001 5 Ms contributors
FD-851-002 Process control
FD-851-003 Process steps – Control points
FD-852-001 Identification and traceability
FD-855-001 Post delivery support
FD-900-001 Clause 9 – Performance evaluation
FD-1010-001 Clause 10 – Improvement
FD-1020-001 Corrective action
FD-1030-001 Continual improvement
Click below for a sample of the Quality Manual, Procedures, and Forms:

QMS Sample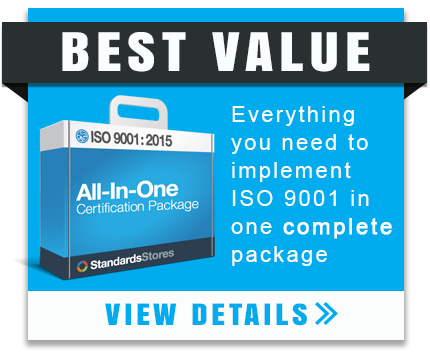 Which version is right for me?
If you plan to reconfigure your existing quality manual and procedures to meet the ISO 9001:2015 standard, use Upgrade Instructions to create everything on your own. They will tell you where to make the changes but will NOT provide templates or new verbiage on the new requirements. Learn More
ISO 9001:2015 QMS is for those just creating their first ISO Management System, and provides necessary documentation to meet the requirements of ISO 9001:2015. See the informational box above for samples, contents, and more information.
If you are transitioning from ISO 9001:2008 to ISO 9001:2015, the QMS Upgrade includes the QMS + instructions. This provides you a map of where to copy some text from your existing QMS, and place it in a new QMS structure which follows Annex L.
Price Each
9001:2015
QMS
9001:2008 to 9001:2015
QMS
Your Price
ISO 9001:2015 Quality Manual
$49
ISO 9001:2015 Procedures
$300
22
22
ISO 9001:2015 Forms and Attachments
$75
58
58
ISO 9001:2015 Flowcharts
$75
29
29
* ISO 9001:2015 Online Training
$24
ISO 9001:2008 to 2015 QMS Upgrade Instructions
$199
Support
FREE
Your Price
* Includes 1 Free ISO 9001:2015 Online Training (30-days to complete training).