Get your Free ISO 9001:2008 Quick Start Kit immediately!
Please enter your information below to download the Quick Start Kit.
The FREE Step-by-Step package includes these Guides & Presentations:
ISO 9001:2008 Executive Overview PDF

A valuable presentation that gives a bird's eye view of the standard, how it will benefit an organization, and basic concepts of ISO 9001:2008 implementation.

ISO 9001:2008 Implementation Timeline

This is a Gantt chart showing the scope of the certification process as a project.

ISO 9001:2008 All in One Contents

Contains a listing of all the contents of the All-In-One package offered by The9000Store.

ISO 9001:2015 Transition Timeline

This is the timeline of events for certification bodies, training organizations, and organizations relative to transitioning to the new ISO 9001:2015 standard.

ISO 9001:2008 Step-by-Step Guide PDF

This PDF contains information intended to be used by the lead project manager.

ISO 9001:2008 Implementation Tips & Techniques

Contains useful information to help you prepare for implementation.

Implementing ISO 9001:2008 PowerPoint

Customizable PowerPoint presentation used to present an implementation plan to the stakeholders of your project.

How to Find a Registrar

Your guide on how to find a registrar and get certification audit quotes.
ISO 9001:2008 Explained Kit:
What is ISO 9001? How do I get certified?
Informational Newsletters & Free Guide explain it all!
Looking for ISO 9001:
2015

info? Get it here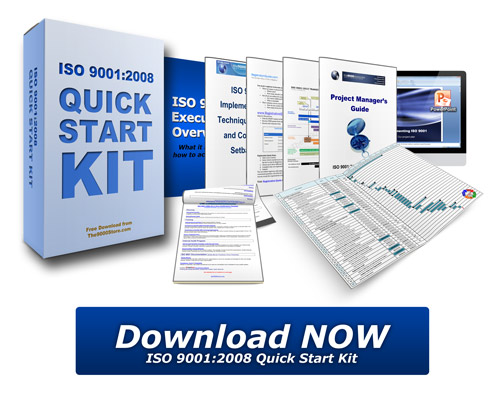 Join our email list and receive the Free ISO 9001:2008 Step-by-Step Guide to provide you the easiest way to learn ISO-9001. See what's included.
The step-by-step guide explains the requirements and benefits of ISO 9001:2008 and how to proceed to certification. This kit will provide all these tools for you to plan for ISO9001 certification. Download the FREE kit after subscribing to our free informational newsletter. (We respect your privacy and will never share your email address with anyone! View our Privacy Policy)
All of the things above: ISO 9001 kits, ISO 9001 implementation guide pdf, iso9001 step-by-step guide pdf, and 9001 iso and newsletters are all free tools to help you understand and ultimately gain certification. *Join our email list above to download iso 9001 kits, powerpoints, and pdf's for free.